Quotes / Orders
Produce quotes and purchase orders for your customers, remotely or face to face.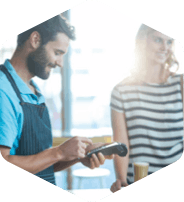 Edit a quote and allow your customers to have an estimate of the price and quality of products before their purchase.
Transform the quote into a sales order form to reserve the product (s) in the order. Obtain invoices corresponding to your quotes, compliant with regulations, with clear and precise information to avoid dissatisfaction.

You have the possibility to create models of quotes, sales orders and invoices, to personalize them according to the elements to appear and to adapt them to your graphic charter.