Warehouse management - WMS
Manage stocks, receptions and shipments, multi-location of your warehouses.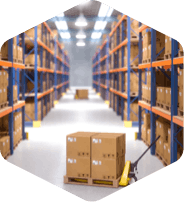 Manage your warehouses on a daily basis thanks to our WMS (Warehouse Management System) solution: optimize your logistics processes and your stocks thanks to multi-location management. Benefit from full traceability on your products and equipment, carry out your inventories in a simplified way thanks to the mobile application. Get a global and unified vision on all of your sites in real time and on the go.