Logistics management of construction sites
Optimize the flow of your work sites to increase productivity and reduce delays.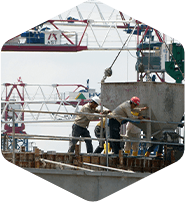 Streamline your worksite flows and optimize material and equipment storage to ensure just-in-time deliveries of materials, at the right place and at the right time. Anticipate and optimize the organization of your resources, while improving the collection and sorting of waste to be recycled. In this way, increase the productivity of each trades dedicated to their work and sites to ensure that you reduce delays on your sites.