Hub Management
Manage your orders and deliveries with a complete Cloud Saas and mobile solution.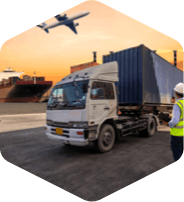 Reduce your logistics costs by massifying your hubs to limit the fragmentation of flows.
Thanks to our partner, optimize your delivery routes to avoid the explosion in deliveries, geocode your addresses and sites and obtain a comparison of planned and completed routes.
Guarantee full parcel traceability by managing end-to-end orders, while providing proof of delivery (signature and photos) to your customers.