Logistics management of construction sites
Increase productivity on your worksites by optimising your flows to reduce delays.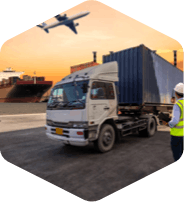 Fluidifying flows and optimising storage to reduce hazards and reduce worksite delays means the assurance of receiving their deliveries of materials in the right place and at the right time, just-in-time. Anticipating and optimising the organisation of resources. Increase the productivity of each tradesman and they are dedicated to their work/worksites. To improve the collection and sorting of waste in order to revalue it.